Bergen Art Book Fair's exhibition – Skeivt Arkiv
Poster details: Illustration: details from the front cover of Lavenndelexpressen nr.1, 1976, artist unknown • Design: Raquel Maia Marques • Format: 420 x 297 mm • Typeface: Fugue (Radim Peško) • Paper: Multidesign natural 170 gr • Technique: Riso print 2 colors (fluorescent pink and teal) • Printer: Pamflett, Ann-kristin Stølan • Edition: 50 copies • Year: 2016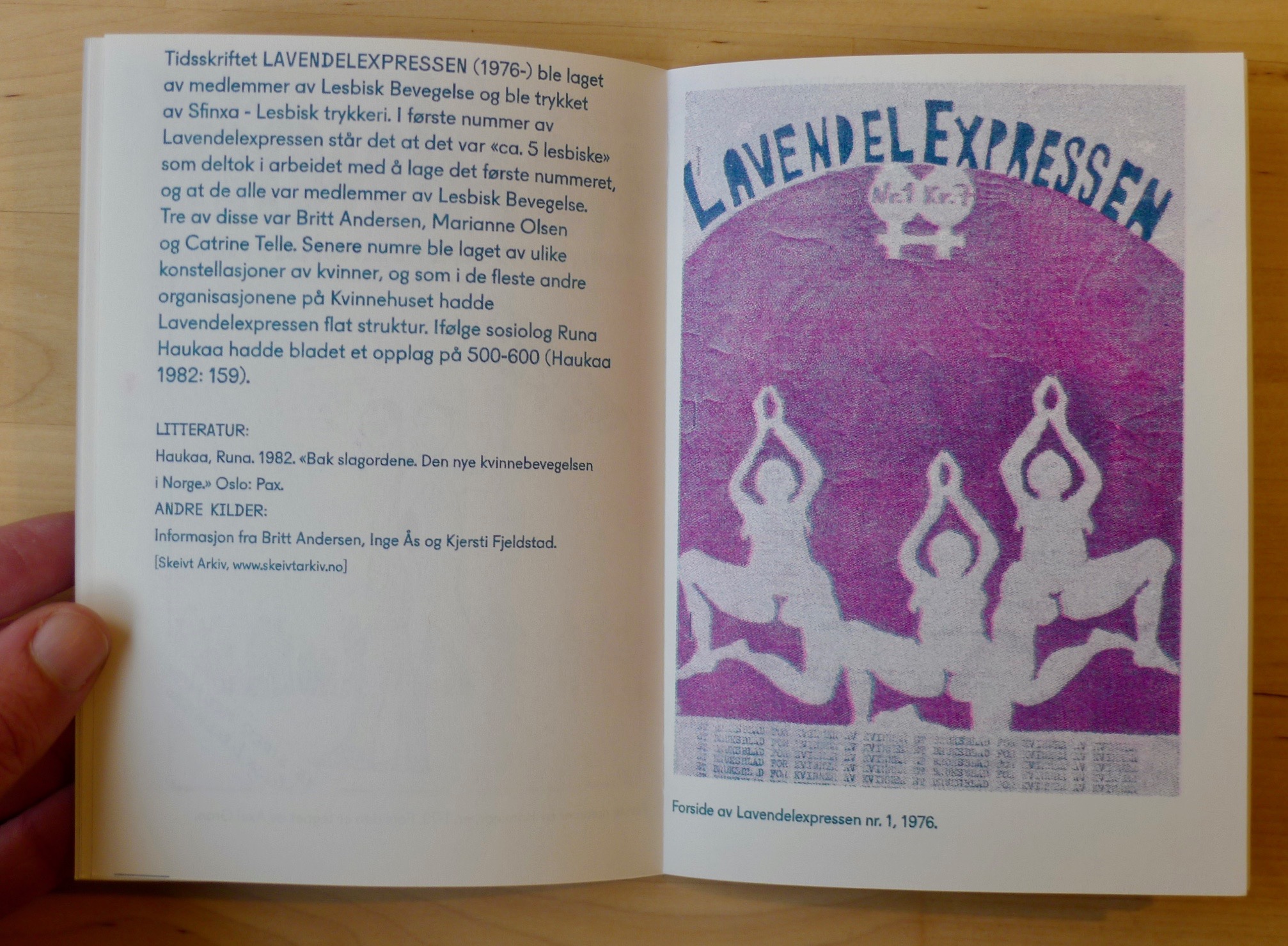 Catalogue Details: Cover Illustration: details from the front cover of Lavenndelexpressen nr.1, 1976, artist unknown • Text: Raquel Maia Marques and Skeivt Arkiv • Design: Raquel Maia Marques • Format: 105 x 148 mm • Typeface: Fugue (Radim Peško) • Pages: 36 • Paper: (Cover) Multidesign natural 170 gr + (inside) Multidesign natural 90 gr • Binding: stapled (pink) • Technique: Riso print 2 colors (fluorescent pink and teal) • Printer: Pamflett, Ann-kristin Stølan • Edition: 100 copies • Year: 2016
The exhibition Skeivt arkiv (Norwegian archive for queer and LGTB history) was part of Bergen Art Book Fair november 2016.
In exhibition there were issues of five norwegian zines from the 50s to the 80s and a collection of student groups posters and fliers from the 80s and 90s, promoting gender equality, expression and freedom to love in Norway.

The exhibition was curated by Raquel Maia Marques and was kindly supported by Fritt Ord. The student posters were printed at Pamflett by Ann-Kristin Stølan.
 
Based on issues of privacy and preservation of the materials, copies of the zines were made and one original is on display. Although the zines have been published before, some of its contributors don't feel comfortable in making their texts and images available today. With this in mind we have chosen zines where privacy concerns are not existent. Exhibiting printed copies of the materials allows people to browse them instead of seeing it through a glass compartment or online. This facilitates the access to the materials, it gives a closer feeling to the originals, it doesn't create distance and is linked with the idea of the zine itself. Zines as means to distribute information and stories in a large scale using economy of means. Traditionally zines were printed using a photocopier and staples to bind the issues, like the copies shown on exhibition. The student groups posters were reprinted using a risograph in sets of two colors, as the poster and zine of the event.